As a makeup lover on a serious budget, I know that when it comes to drugstore makeup sometimes you have to sift through plenty of duds to find that diamond in the rough. Here I've compiled a list of seven of my holy grail, all-time favorite drugstore products to hopefully make your search a little less painful.
1. Hard Candy Glamoflauge Concealer (in the shade "Fair") $6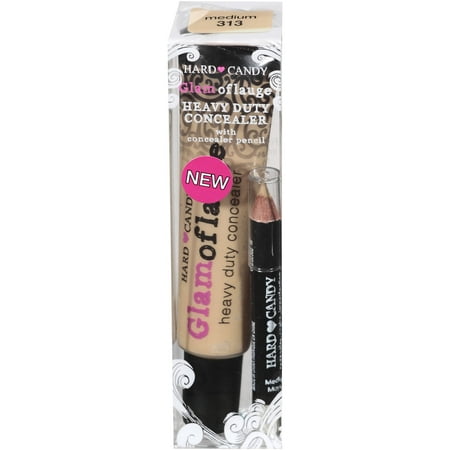 I should seriously write Hard Candy a thank you letter for inventing this stuff, because it has gotten me through all of the many, many breakouts of my formative years. Before discovering this concealer, I'm pretty sure that pimply fourteen-year-old me tried just about every concealer under $7 on the market to no avail. While rifling through my best friend's makeup collection one day I stumbled upon a tube of Glamoflauge concealer, which she insisted I take as it was too light for her. It was love at first use, let me tell you. Even though the shade was too dark for me, I wore it every day until I ran out. I finally found my correct shade, and to this day six years later, it's still a major staple in my routine.
This concealer is pretty heavy coverage, and claims that it can even cover tattoos (I have no tattoos to test this claim, but it covers my dark circles pretty freakin' seamlessly, and that's good enough for me). It goes on and blends out so smoothly, and once I set it with powder it lasts all day. Be forewarned though, there are a couple of drawbacks to this product: because this concealer is so high coverage, if you attempt to use the wrong shade it will be VERY obvious. Finding the proper shade can be a bit of trial and error, as you can't (or rather shouldn't) open the product in stores, but Walmart has a great return policy if you make sure to keep the receipt and original packaging. Secondly, this product can settle into fine lines, so if you're concerned about that I'd suggest using a different concealer under the eyes and using the Glamoflauge concealer on the rest of the face.
2. E.L.F. Baked Highlighter (in the shade "Moonlight Pearls") $4
This is by far the best drugstore highlight I have ever used, maybe just the best highlight I've used period. I found this at a Target on my hunt for the perfect highlight, and although the $3 price tag didn't initially give me much hope, I don't think I've used another highlight since. As far as I know this product comes in both a lighter and a darker shade, and as I'm pretty pale I opted for the lighter. This product gives a perfectly natural looking glow, but can also be built up if you prefer your highlight to be blinding. Because of its baked formula, it can be a bit tougher to pick up the product using a brush, so I'd recommend using a sponge (or even a clean finger) to apply the product initially, and then going in with your favorite blending brush for a seamless finish.
3. E.L.F. Blush Palette (in "Dark") $6
Honestly, the only reason my pale self bought this palette in dark instead of light, is because it was 50% off, and you won't ever catch me passing up $3 palettes. That being said, I LOVE this palette. It comes with four shades, a bubblegum pink, peach, berry, and shimmery red. I most commonly find myself dipping into either the pink or peach, but lately I've been swirling them all together for a darker look. All four shades are so pigmented, and once applied they last for hours, which can be tough to find with blushes. All you really need is one tap of your brush to pick up enough product, and that being said, it can be easy to overapply so be cautious. Another great thing about this palette, is that all of the product pans pop out and can be interchanged with pans from other E.L.F. palettes, so you can customize as you please. How cool is that? It also comes equipped with a larger mirror, making touch ups on the go a breeze.
4. Milani Baked Blush $8
I first found out about this cult favorite blush through a review by Nikkie Tutorials (a makeup YouTuber with a personality as on point as her contour), and made it my mission to find it in the exact shade she recommended, Luminoso, which she swore would sculpt my cheekbones and basically turn me into handsome Squidward.
For months I checked my local drugstores obsessively, and for months the shade Luminoso was sold out in EVERYWHERE. Because I'm impatient, I decided to pick up some other shades to experiment with while I waited for either a restock or an act of God, and I ended up getting Dolce Pink, and Bellissimo Bronze, which totally rocked my world . Eventually, one fateful day in a dimly lit K-Mart (yes those still exist) I did find Luminoso, and let me tell you, the coral shade is everything I thought it would be.
The shimmery formula of these baked blushes gives you the perfect glow, without being glittery or tacky. They are highly pigmented, long lasting, etc. etc. and the color range includes shades suited for both lighter and darker skin tones, which is always awesome. Everyone who I've met who has used these blushes absolutely adores them, making them a must have for any drugstore makeup connoisseur!
5. Jordana Easyliner For Lips (in the shade "Rock N' Rose") $2.99
I love basically everything about this product. I'm on my second tube of the shade Rock N' Rose, and I'll probably be needing a third here pretty soon because I just love this "my lips but better" color. The formula is long wearing, and can either be topped with a matching lipstick or simply a lip balm. When the lipliner does fade, it leaves a nice stain behind so you're never without color. The product is packaged in a retractable tube, so no sharpener needed, which I love. And the price? Come on, that's pretty hard to beat.
6. Wet N' Wild Brushes $2.99
Wet N' Wild is definitely the brand to watch in the drugstore beauty industry at the moment, as they're coming out with some pretty high quality products for unbeatable prices. One of my personal favorites is their new pink and white brushes (I'm sure they have official names, but as long as you know what I'm talking about I think we're good). Their range includes everything from fan brushes to angled eyeliner brushes, and the price has enabled me to completely revamp my brush collection without breaking the bank. These brushes are super soft, cute, work exactly like they're supposed to, and are cruelty free and vegan. What more could you ask for?
7. Dickinson's Original Witch Hazel Pore Perfecting Toner $6.29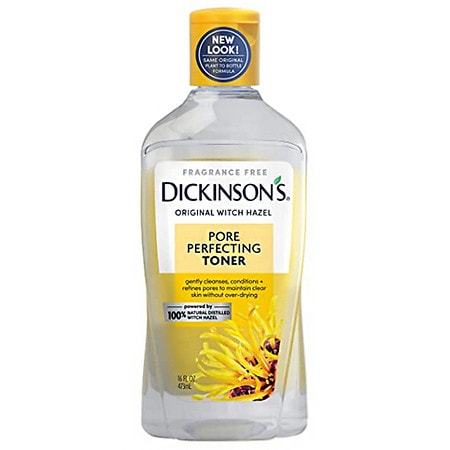 This last product might seem totally out of place, but trust me, its earned its place on this list. For me, a setting spray is a must have to complete any makeup look. It just melts everything together, and ensures that my makeup will stay on all day. One of my favorite setting sprays is made by E.L.F. and rings up for about $6, which is definitely a reasonable price, but as a college student continually looking to cut costs, $6 every few weeks was just becoming a little excessive. While looking for some cheaper and more natural alternatives, I stumbled across a few articles proclaiming that witch hazel was an end all be all when it came to natural setting sprays. I went out and purchased a big bottle for relatively cheap, and I've been mixing up my own setting spray at home ever since (the recipe is one part witch hazel to one part water, if you were wondering pretty crazy complicated I know). This alternative works just as well for me as the E.L.F. setting spray for a fraction of the price.
So, there you have it, seven products that prove you don't need to break the bank at Sephora to look like you did. What are some of your favorite beauty products? Leave a comment below and let me know!